2 days ago my wife said "just get the biggest tank you can get so we can stop talking about this" LOL So, a deposit was placed on a Reefer-S 850.
This build came to be because it was finally time to remodel the room my old DT was in. I'd always put it off since I had no desire to move the tank... but an ALK overdose forced me to move all the coral out to my frag tank in the garage leading to a rather easy teardown. A few members here snagged some of my livestock, I tore the tank down, sold it and it was time for a remodel.
Here's the before & after of the room... Different angles but you get the gist.
So now I have a nice & large wall available for a tank. The Red Sea site's AR tool says it'll look something like this: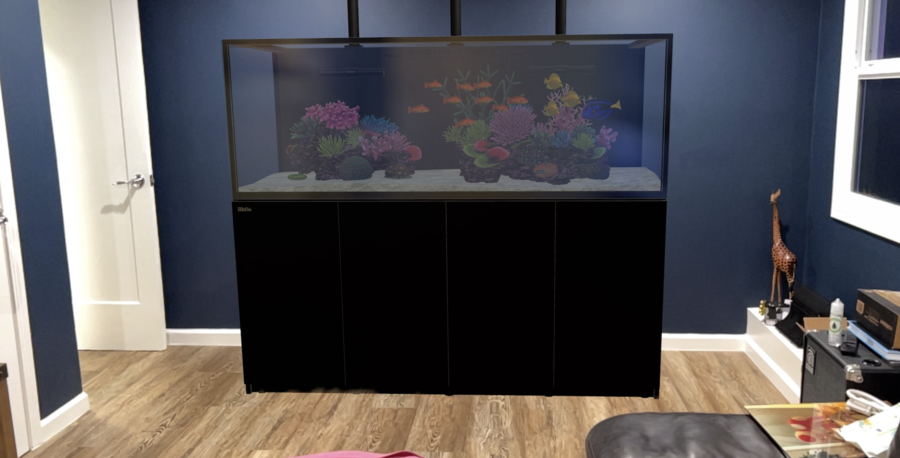 I'll probably slide the tank off-center, over to the right to maximize the entry way but that's more or less what we'll be working with.
So why the Reefer-S 850?
I didn't want to go custom as I don't actually need anything custom. I just wanted decent sump space & a convenient layout. I also appreciate that the site and videos have enough info & visuals to answer my questions. With custom I'd have to do a lot of thinking, picking & figuring out. Not saying custom is worse by any means - but for my personality I'd rather just know stuff in advance & have limited options otherwise I'd just overthink everything and annoy myself.
The extension sump is a big selling point. Seems like a convenient place for an ATS, probes, reactors etc. After feeling cramped in my 350's sump this will be a nicety
The soon-to-come ReefMat. I definitely wanted a roller mat and having one made by the same company that theoretically "drops in" sounds nice
Its ready for dual return pumps
Aluminum cabinet - I think it'll be easier to move if I ever need. plus it feels "right"
I don't have to do plumbing
This series gets a thumbs up from Robert @ Neptune
So the tank's at least 6-8 weeks away from delivery so that gives me plenty of time to go through the rock from the previous tank clean it, ensure the pests are dead/killed, murder off the vermiteds and deal with whatever else isn't awesome.
And now we wait...
I'll start posting my thoughts and questions on gear in the coming days/weeks.