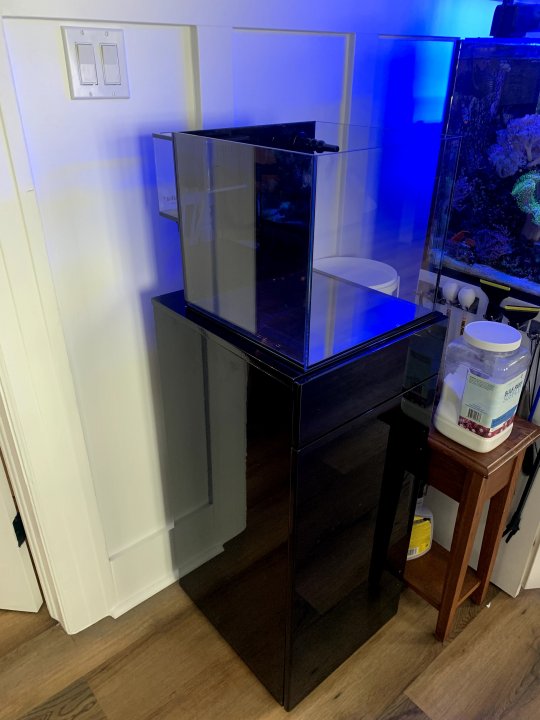 This is my new project. It's a 14" cube with an external overflow box. I want to plumb this into the sump of my Red Sea Reefer 250. My original motivation was that I'd like to add some mangroves and/or macro algae for nutrient control, and maybe get rid of my algae rector, but I couldn't figure out where to put them. So why not add a new display for them?
Still not sure exactly what I'm going to do, but it will be some combo of mangroves, macro algae, a dedicated place for frags so they aren't in the main tank, and/or a place for clams. No fish, because I don't want a lid.
This will be exciting because it's the first time I'm doing my own plumbing. I want to run colored schedule 40 PVC pipes from the drains into my existing sump. Then I want to make a return manifold for the main tank. This is another project I've been wanting to do for a while, to get rid of the pumps for my carbon and algae reactors, and I'd rather do it now than add yet another pump as a return for the new tank. I haven't quite decided how to attach the new return to the manifold, but I might just go with a long run of soft tubing.
All of this will leave the new cabinet free as storage space, which I can certainly use. Unfortunately I managed to start the project with a bad omen. When I put the cabinet together, I didn't realize that it came with 2 different screw sizes. When I attached the hinges, the screws went through the door and into my floor. When I realized this, I started swearing--a lot. But as it turns out, you can't really see the marks in the floor, and the holes in the door annoy me, but I can live with them. Fortunately my floor is synthetic (it just looks like wood), and it kind of self-heals.
All of this plumbing is still in the drawing stage, so this tank won't have water for quite a while yet. But I'm excited to see what happens.