Here's a quick look at the front half of the house including where the tank will be going. For those who've been to my place and seen how small it is, this is going to be a big improvement on the living space. Kitchen was tiny and behind a wall. Anyway, this is the new drawing that is pretty accurate in dimensions: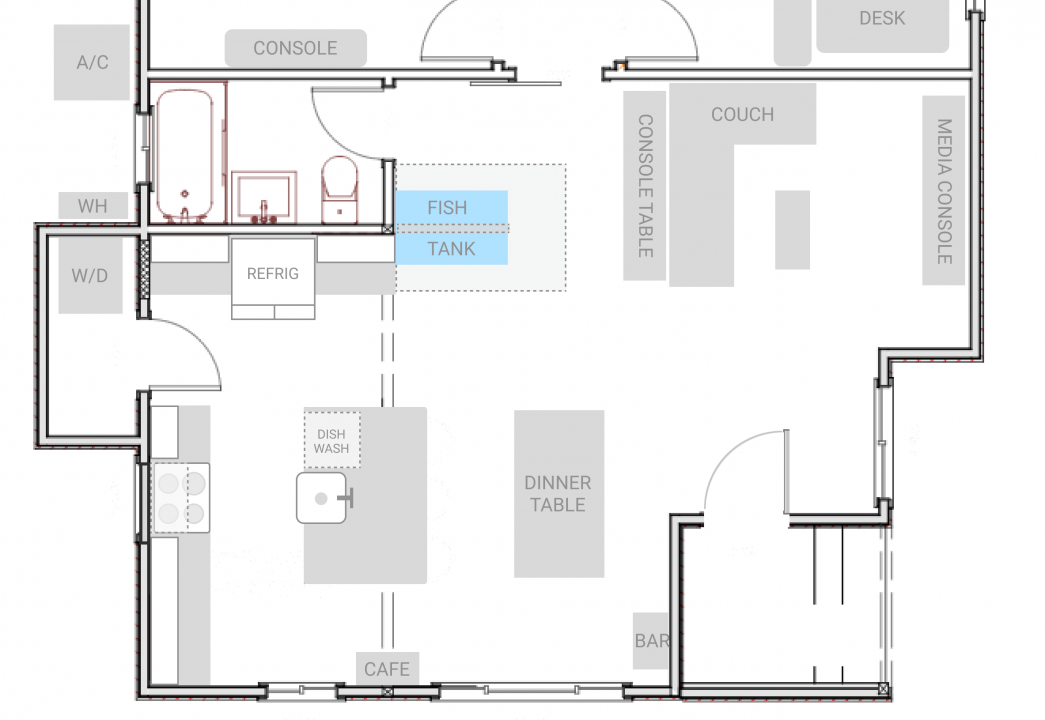 The light grey area around the tank is the space I'm planning for the contractor to add floor support (so it'll be extended past the tank's footprint).
The grey "line" above the tank is a 2x4 ceiling support for hanging lights.
The tank is a footprint of 48"x30" (yes, I didn't account for some extra space between tank and wall in this drawing).
talking about the placement, it's more or less a peninsula, though the ratio is kind of boxy. It gives 3' of space to walk to the bathroom, and it ends at the same depth of the "top" cabinets in the kitchen. The height of the stand will also match the countertop height in the kitchen. It'll look pretty seamless.
In addition, I'm thinking of putting an electrical powered "blind" that will retract into the ceiling and down so that I can press a button to lower it when I'm watching TV (which will be wall mounted above the media console). I know for sure the blue light will totally glare. I know the blind won't keep all the light out from glaring off the other parts of the room, but it'll help. If I really want to watch without glare, I'll just turn the lights off.