60 gallon
Foods: frozen unless specified otherwise and rotated daily
Hikari brine shrimp
San Francisco Bay blendfish eggs
San Francisco Bay blend marine cuisine
Hikari squid
Rods food coral and original
PE mysis
Dry pellet food once a week
dosing: (daily unless noted otherwise)
esv b ionic 2 part
4ml Red Sea nopox
Red Sea coral nutrition a+b
30ml phyto
filtration:
11 gallon sump
Protein skimmer
Filed socks
Periodic carbon and GFO reactor when phosphate levels deviate from red field ratio.
Stocking list
All pictures as of Sept 2020)
BTA: Received from BAR member June 2020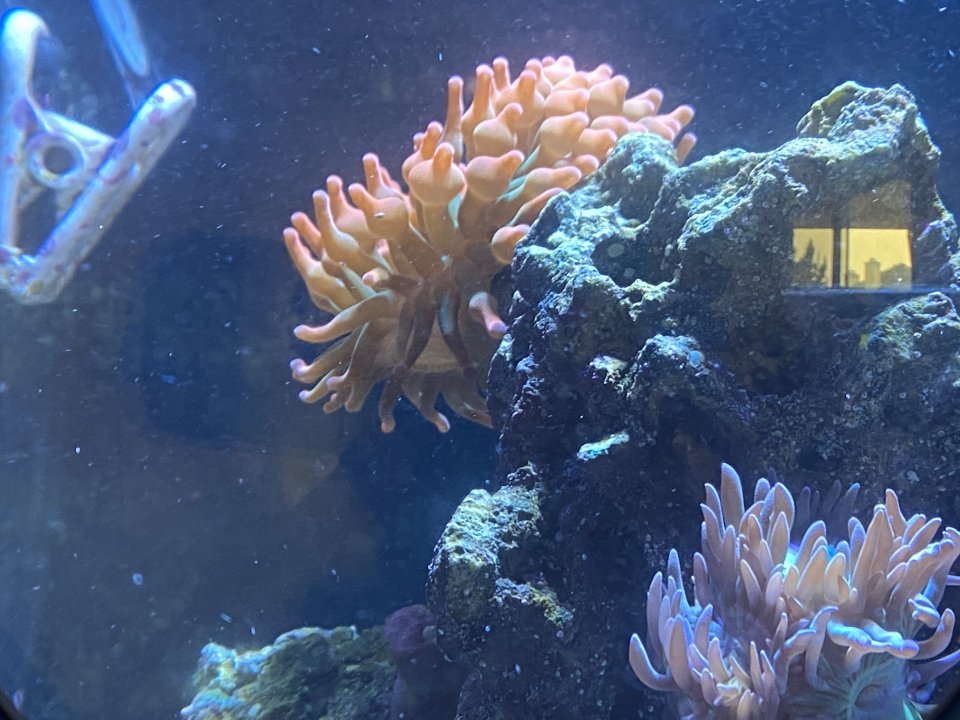 Frogspawn 4x: April 2020
Birdsnest: May 2020 - recently was knockover into a frogspawn and has suffered significant tissue loss (90+ percent). Frogspawn appears ok.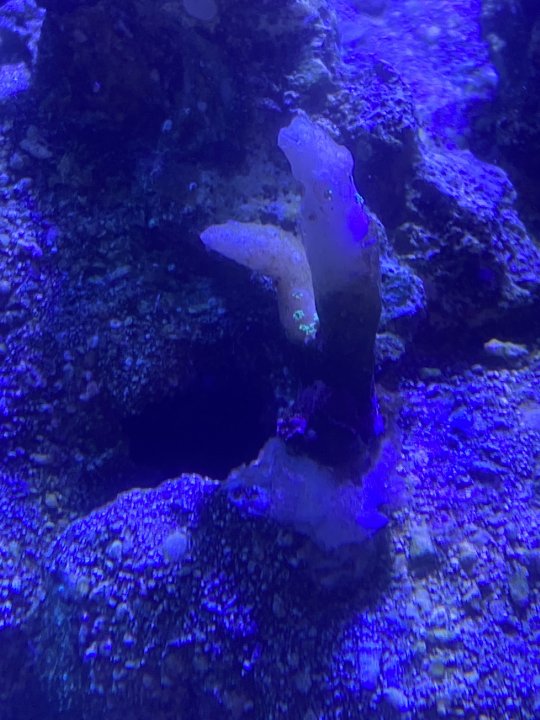 SPS:June 2020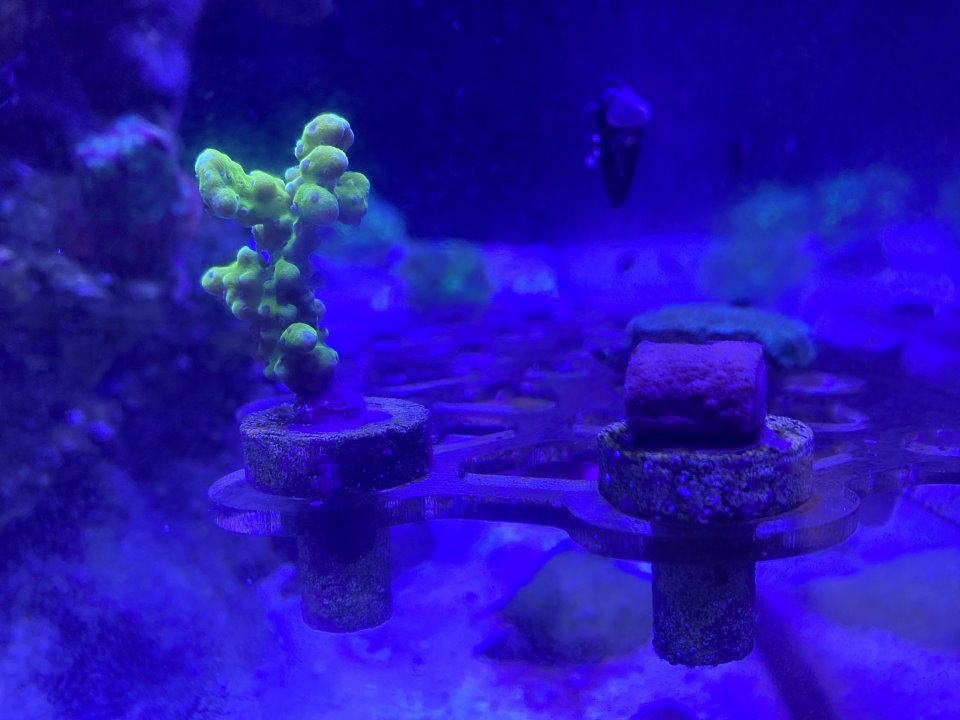 Zoas: April 2020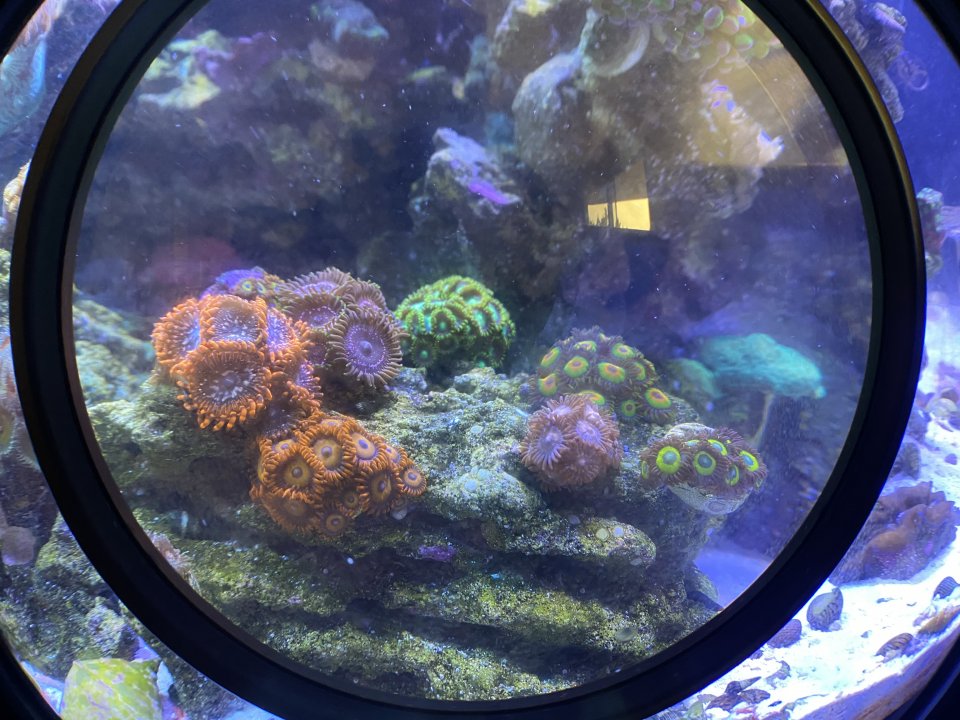 Latest tank stats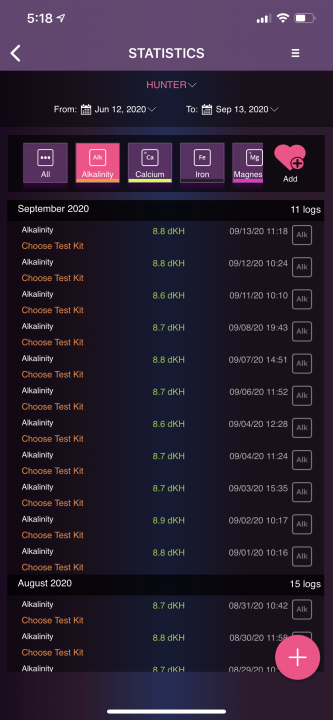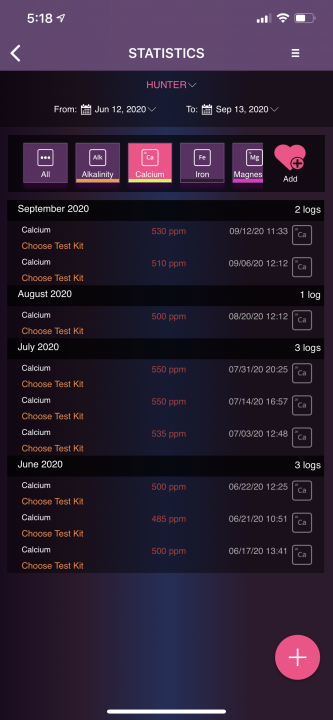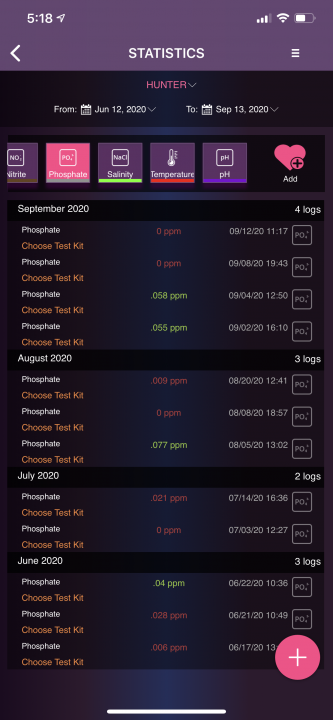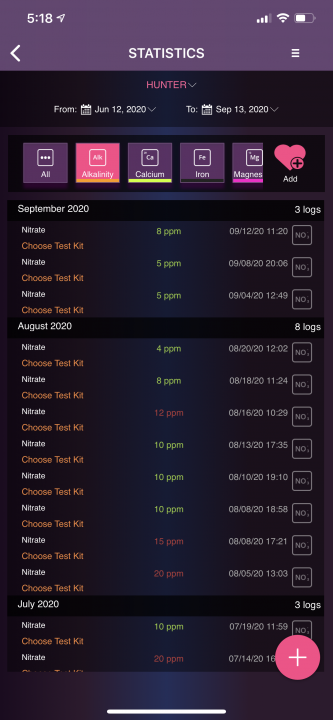 Other inhabitants:
Two clownfish
YWG mar 2020
Antenna Goby mar 2020
2Bar gobies mar 2020
3 chromies feb 2020
Duncans May 2020
Bowerbanki June 2020
Aussie lord June 2020
Deresa clan April 2020
Elegance coral June 2020
War favite mar 2030
Red blue/Jason fox favites April 2020
Lepto mar 2020
Teal favite April 2020
Goniopora mar 2020
Hollywood stunner challice Mar 2020
Ricodira Floridia mushroom June 2020
All inhabitants were moved to a new house in June 2020. No inhabitants were lost during the move.
feeding routine: 2x daily. Mostly frozen with selcon. Occasionally pellets.
August 2020: subordinate clownfish showing large tears in tail fin. Suspected emerald crab. Crab was removed. Post removal of the crab a new tear in the same fin was found. I noticed some aggression between the chromies and the subordinate clown but I am hesitating to attribute the issue to the chromies. No new tears were found towards the end of August.
issues as of sept 2020: a small Cyano outbreak covering about 5% of rocks and 5-10% of the sandbed. Considering vibrant treatment if it does not clear up by October. Phosphates have subsequently tested zero since it has shown up. Ran GFO for three day to attempt to bind any free phosphates before the Cyano got it. Did not appear to help. It has since been taken offline and I am attempting to bring phosphate slowly back to .03 ppm. No other algae issues are present other than some GHA in the sump which I regularly harvest in small amounts but likely inconsequential nutrient export due to small size of it.
Added 9/14/2020
New Coral
9/14/2020 -
Bowerbanki Tissue DMG
unknown tissue damage noticed on Bowerbanki. Picture shows the largest amount of damage but there appear to be 4 more smaller spots of damage.
Cause: TBD
Montipora Update -
Montipora Comparison
Continues to deteriorate. Lost roughly 20% of tissue from introduction to tank.
Problem: STN
Cause: suspect low ph or possible improper light acclimation.
PH as of 9/14/2020 @ 11:45 am - 7.7
Clownfish 9/14/2020 - two black spots noticed on the larger clownfish as well as damage to the tail fin And pectoral fin. Aggressive behavior has been noticed with the tang. No previous issues with this fish. The smaller clownfish tail fin is recovering and has no new injuries.
Cause: Unknown what is causing the fin damage. Suspect possible fighting due to the clowns maturing. Black spots have been noticed on clownfish that are attempting to host a new Coral based on accounts by the community. I have not seen any attempts.
9/14/2020 - Growth Update
Overall growth across lps and sps appears to have slowed considerably. Possible PH issue that I am looking find a way to rectify without throwing all the other parameters out of wack. Possible the smoke from the wildfire has been a driver. Considering a CO2 scrubber for the protein skimmer intake line.
The cotton candy Aussie lord has been shrinking and showing a gaping mouth from the right side head.
Possible that Cyano outbreak is actually slime algae.
Coraline algae growth appears steady with the majority of the new growth happening within the last 4 weeks.
Duresa clam shows no new shell growth under mantle which is concerning.
Zoas, Anemone, Duncan, Torches, ricordia mushroom, blasto, elegance, all favites, and chalices appear healthy.
9/22/20
Cyano appears to be receding.
CO2 scrubber has raised ph to the range of 8.0-8.2.
Coral colors are vibrant.
One torch has split and budded a new head.
The hammer has budded a new head.
New monti cap and stylophora appear healthy. They appear very vibrant at the bottom frag rack. Intend to move up 1-2 inches on 9/29/20.
GFO reactor was brought online and phosphates have since stabilized during early testing results, more data points are still required. Prior results show high volatility with large deviations from the mean. The largest deviation from the mean result took place after 60 hours of no nutrient import to the tank at all. Slightly baffled by that result.
Feedings have been reduced by 50% going forward until I am certain volatility in phosphate results is reducing.
Performed an equipment check. No rust, malfunctions, or precipitation was noticed except for two dosing lines lost their prime and the protein skimmer is beginning to show signs of wear.
Dosing line was primed again. Dosing heads May need replacing and calibrated. No impact to dosing schedule. Alk fell from 8.5 to 8.3. No concerns.
Protein skimmer is being replaced. Pump has started to show wear and frequently underperforms or overflows. Trying to decide the best way to break in the new skimmer while still maintaining nutrient export for carbon dosing.
Last edited: