August 22, 2023
I bought some corals online. I got stuck in a cycle of shopping for expensive chalices, but balked at spending that much money on something I haven't seen before. I felt like I had to break the fever. I ended up getting some zoas, a tyree red watermelon chalice, a rock flower anemone, and a pink cadillac acro. I tried to get things that were versions of things I'd seen before but my local shop didn't seem to have.
Cultivated Reef seemed to have a decent reputation and the aquaculture thing seemed nice. They had a lot of things that seemed to be around when I had my first tank 15 years ago, which made me think they had things that were hardy.
I've kind of been on the hunt for a good yellow zoa. I was very impressed with the one I got from
@Alexx
. This yellow brick road zoa is also very nice. The skirt is a bright lime green with a yellow center. A very nice one.
I had never heard of rock flower anemones until recently. The pictures were pretty impressive. I didn't recall seeing them in local shops, but I may not have known what to look for. I like this one. It wandered off the ledge I initially put it on. I'm pretty sure it didn't like the flow. It moved again after I sloshed it around pretty good during a water change. It seems to have found a place it likes, but it's wedged under a rock. One the one hand, I like that it's in a spot that I would otherwise not be able to place it and it's got a little spunky character in that it just goes where it pleases. But, on the other hand, it's in a place where I can't feed it and it doesn't get direct light. Hopefully, it won't get too big or wander too much. I'm willing to be convinced that it's irresponsible to have one in a tank like this, but the little research I did made it seem OK.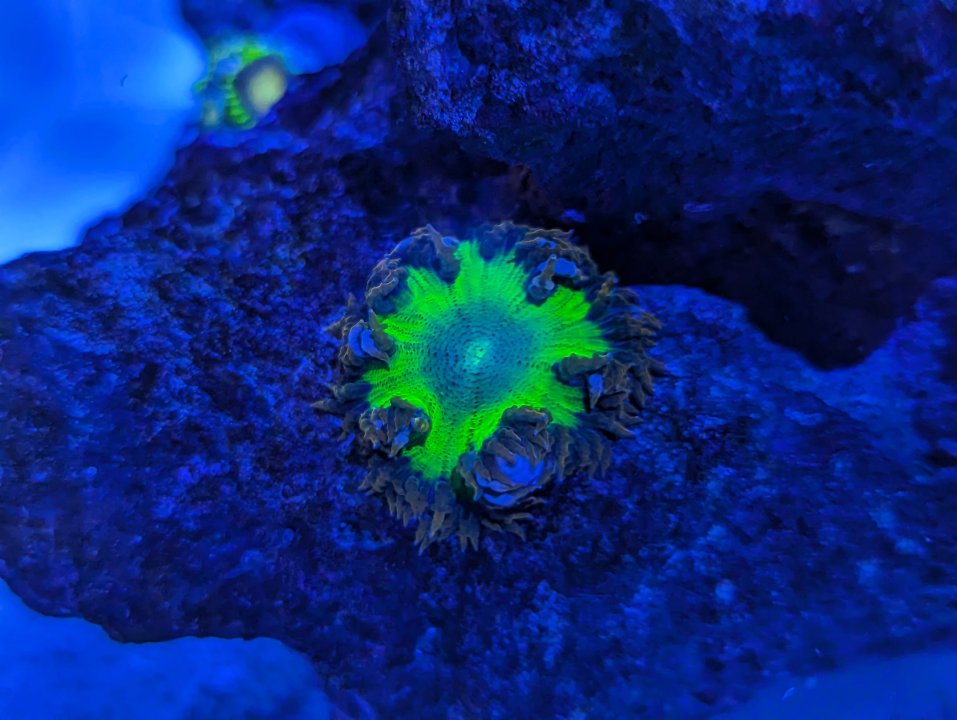 The "CR Hot Tuna" zoas are nice but may look better as a big mat. The centers aren't inky black in the white light and the pink rim is nice but it isn't as bright as most of the other things in the tank. I'll let it grow out a little and reassess. I may eventually end up passing on that one.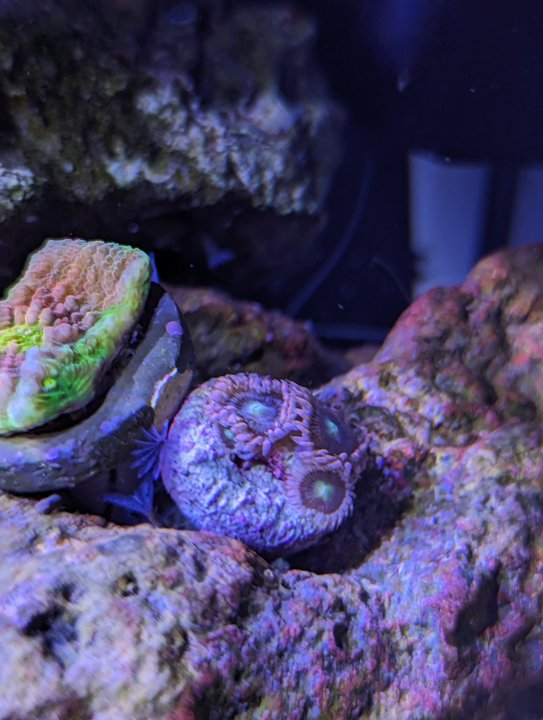 I feel a little bad getting an acro that has a high chance of dying, but it was only $10 and I got the impression I was practically doing someone a favor by taking their yard clippings. The acro has suddenly made me crazy about flow, which I'll make a separate post about. I fiddled with the powerhead and it ended up blowing straight at it. After about a day, I could see it was bleaching where the powerhead was hitting it. About 24 hours later, I moved it to another spot just a couple inches away with less flow. That seems to have at least stanched the bleeding. The day after moving it, it tentatively looks like it's slowly regaining color in some areas. This picture is from right before the bleaching. The right two growths turned completely white. My hope is that I can use this acro to learn on. I'm a little intimidated by them. I know it's very early to add them, but for $10 I wanted to see what happened and maybe learn something along the way. High Tide Aquatics has an acro that I'm really excited about with a deep purple base and green tips. When my tank is more mature, I'd try one of those in this same spot and hopefully use my experience with the "RRC Pink Cadillac" to make that work.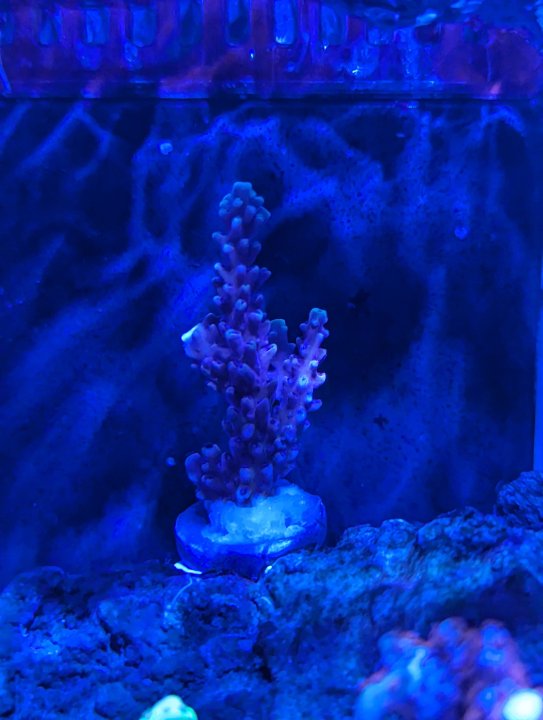 I got a "mandarin orange" zoa also because it was cheap and I wanted to see if it was the same as the zoa I got from Alexx, which there wasn't a trade name for. The pictures looked similar and the description was the same: orange skirt with a yellow center. The Mandarin Orange zoanthid I got has a very nice yellow center, but the skirt is more maroon versus a thicker, bright orange skirt on the ones that I had. Still a nice one, because of my limited space, I'm just gonna donate this one to whomever wants.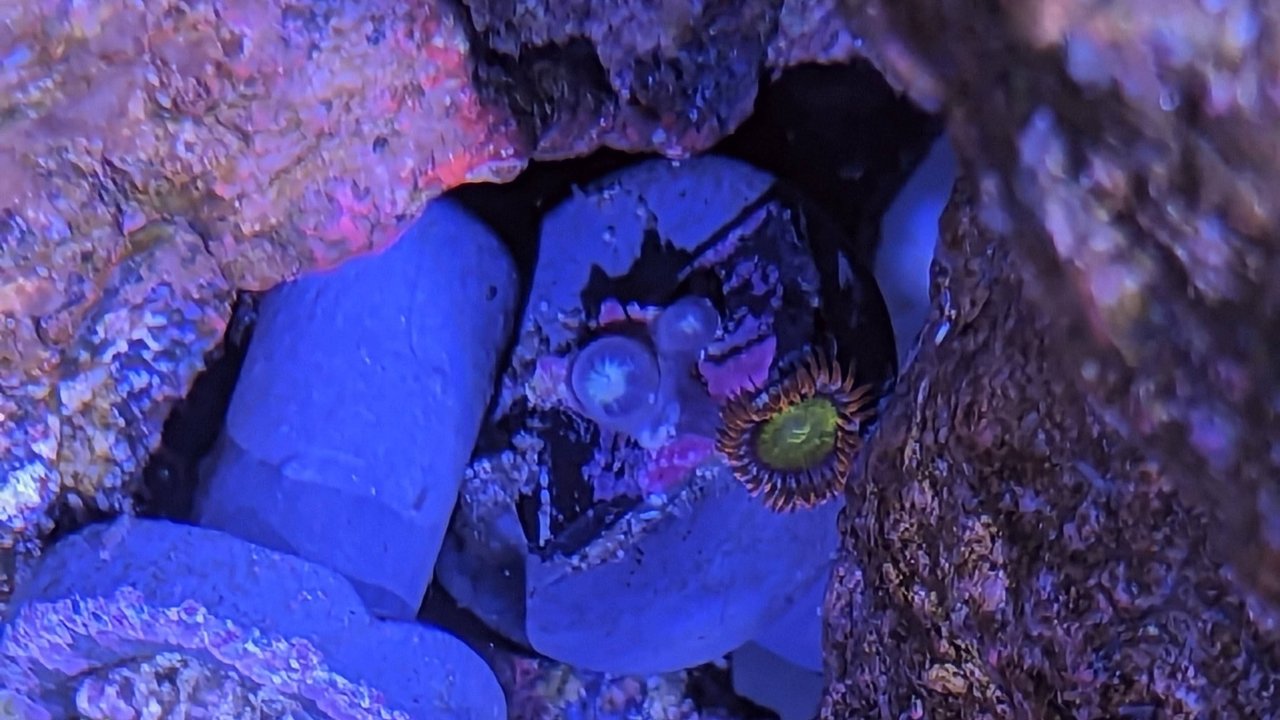 I got some green star polyp for the magnetic rock. I figured they could handle the high flow and it would be nice to have some green up there. I know it's widely available, but I didn't recall ever seeing it locally and it was cheap. Seems like a nice version of a GSP.
I got a Tyree red watermelon chalice. I've seen several watermelon chalices and I think they're really nice. The one seems to have been around a while, which I take as a good sign. The piece I got is very small, one eye, which seems typical of many chalices online. The green center and rim are nice, but it's not very red or watermelon-like right now. Hopefully, it just needs time to get bigger and color up. We'll see.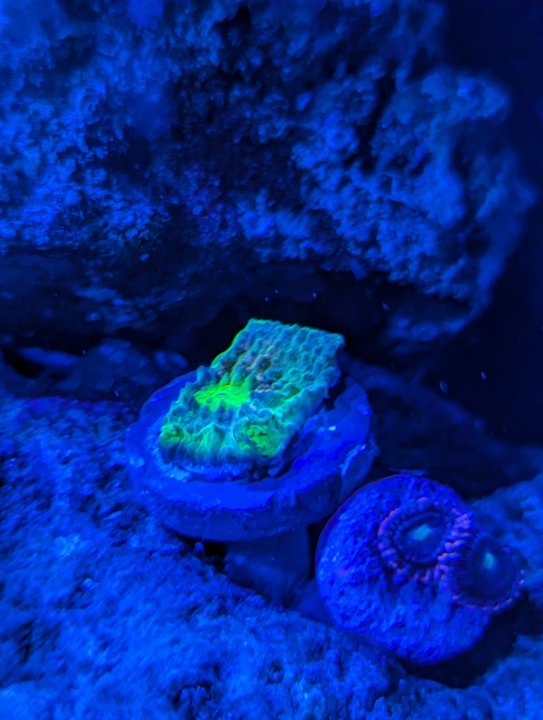 There's only a couple spots left in the tank. Hopefully, this will break the fever and I'll just grow out what I have for a bit.